Top Fitness Trainer Proves Why There Are Big Weight Loss 'Results' in Dublin Boot Camp
Hi, I'm Mark Rogers, the
most respected personal trainer
in Dublin and Northern California. The response to my exclusive Blazin' Bodies Boot Camp has been tremendous, and people are always looking for the secret behind so many of my clients achieving their dream physiques in record time.
To be totally honest, there is no "secret", the
bootcamps in the Tri-Valley
that I design work because they are specifically designed to
trigger fat loss
and accelerate the body's metabolism into high gear. There are many things that go into the program, but the main foundation for it is the variety in utilizing cardio, weight, and core training, one right after the other.
By switching from these different styles, and keeping the exercises fresh and unpredictable, your muscles have no choice but to respond and become firmer. Also, the
constant motion
is what causes your body to be challenged, leading to an healthier cardiovascular system. As a result, you experience
more energy
each day and feel like an entirely new person.
Still, with all of the health benefits that come with bootcamp style training, most people in Dublin are interested in losing weight, fast! In fact, the one question I still get asked is,
"how much weight can I lose and how long will it take?"
The truth is that with the
right kind of exercises
and nutrition plan, there really is no limit to the amount of weight that can be lost with boot camps. I believe that every person has the ability to not only lose weight, but to completely transform their body and stay in their best shape for the
rest of their lives
. That's why I named the program, the
Blazin' Bodies Boot Camp
. It really does motivate people to achieve amazing things faster than they ever though possible. You get a smokin' hot body and you get it faster than you can imagine!
Besides having the right exercises in a certain order, it takes the right diet to
speed up your body's calorie burning process
. With every new client, I do extensive
body fat testing
and
customize a nutrition plan
that works for them. The key point to remember is that your body is unique, and it needs specific foods to stay toned and sculpted. The nutrition plan you get will be
easy to follow
and you will not feel like you are "missing out" on any of the foods you enjoy.
Getting back to the question of "how long will it take to lose weight", well my clients have experienced
rapid weight loss
and have seen definite results in
days
, not weeks. And of course, the excitement of making progress motivates them even more, which leads to an incredible body much, much
faster
.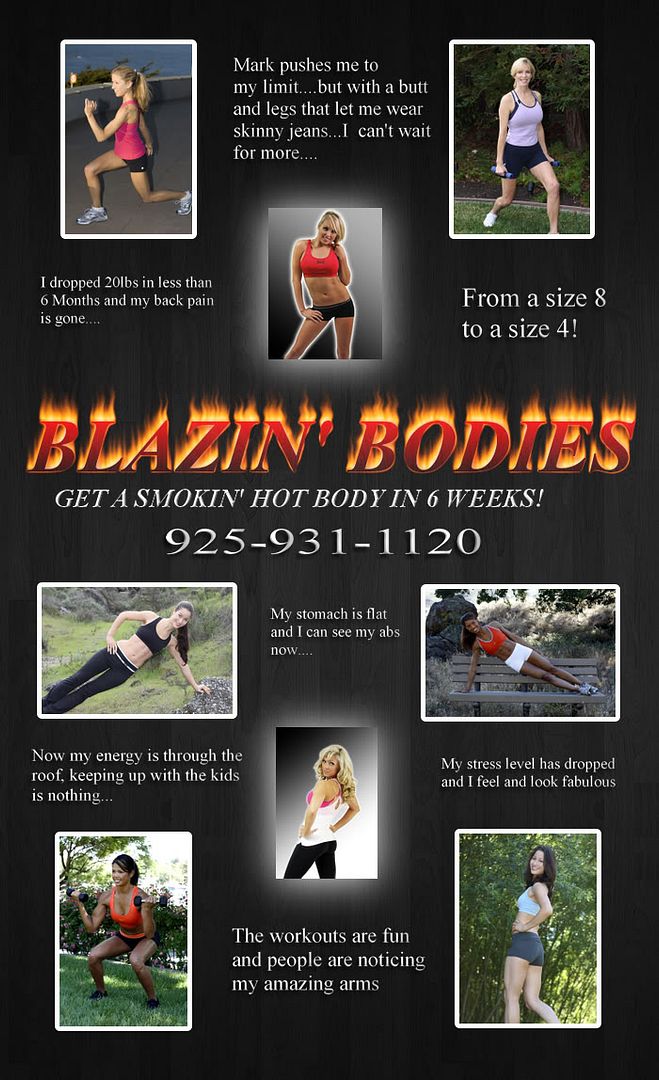 To inspire you to try your best, I'll even buy you a pair of your favorite designer "skinny" jeans after you finish the
Blazin' Bodies Boot Camp
as a way to celebrate your new look. For me, it's not about temporary results, and I want to make sure that you enjoy having a great body
forever
. Having a fun, effective workout program that you actually want to go to is only part of the equation. Having an
iron-clad guarantee for your success
is the other part. Allow me to introduce to you my Body Fit For Life Guarantee:
If after completing the Blazin' Bodies Boot Camp, you ever gain any weight, you can come back and train with me for free!
That guarantee proves to all of my present and future Dublin clients that I am
serious
about helping them change their lives and why there is definitely
no limit
to the goals they can achieve. We also have
weight loss programs in Pleasanton
, or
personal training in San Ramon
if you're not in Dublin.
Call 925-931-1120
for more information or details about the exclusive Blazin' Bodies Boot Camp
The Blazin' Bodies Boot Camp, serving Dublin, CA and surrounding areas, Including 94568
________________________________________________________________________
Mark Rogers Fitness Personal Training is proud to offer its exclusive boot camps all across the Tri-Valley and Northern California. Just click on your area for more information.